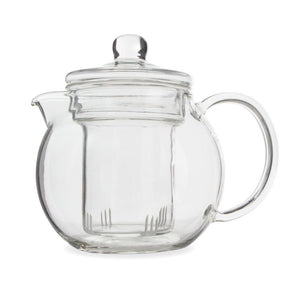 Watch the beauty of your tea leaves unfold as they brew inside the clear glass infuser of your Yama Teapot. This Yama Glass Teapot with Infuser is made of Borosilicate glass so it's temper and heat resistant for safety. The filter is removable so it's easy to clean and dishwasher safe. Brews 22oz so it's great for tea time with family and friends. Perfect for use in any teahouse, restaurant, home, or office.

Can be used with the candlelight-powered Solid Glass Warmer to keep your brew warm and fresh!


TEA BREW PROS
Refined brewing for tasty tea.

Removable filter for easy cleaning

Hand-blown Borosilicate glass.

Temper and heat resistant for safety.

Capacity is 22oz.

Dimensions are 6 x 8 x 5 inches.