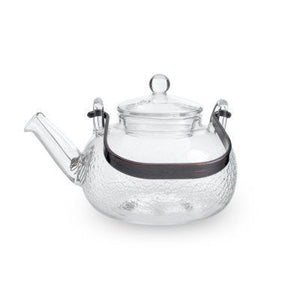 A good tea kettle is a nice tool to have when it comes to brewing good tea and we love using glass because it doesn't absorb liquids or odors ensuring that every brew is pure and delicious. The Yama Glass Sassy Teapot features a beautiful embossed pattern and is handblown with Borosilicate glass. This Petite version of the Yama Glass Sassy Tea Kettle holds 12 oz and has a stainless steel coil that filters your tea seamlessly. Perfect for use in any teahouse, restaurant, home, or office. 

TEA BREW PROS
Stainless steel coil to filter your tea.

Borosilicate glass is non-porous meaning it does not absorb odors or liquids ensuring your tea is uncontaminated and as pure as possible.

Lid has a small vent.

12oz kettle.

Hand blown glass.

Borosilicate glass is temper and heat resistant for safety.

Metal handle.

Made in Taiwan.